SPRING BREAK DESTINATIONS FOR THE PICKLEBALL OBSESSED
We've teamed up with Pickleball In the Sun, the source for the best pickleball destinations and experiences, to bring you a list of some of the best vacation hot spots out there that also feed our pickleball obsession by having dedicated pickleball courts onsite! These places offer an opportunity to relax, have fun, and play Pickleball all in one place - does it get any better than that? 
Our Nettie paddles were recently featured as Pickleball in the Sun announced a partnership with the PicklePlay app, the number one Pickleball app to help you find courts across the world, to feature "Premier Pickleball in the Sun Destinations powered by PicklePlay." With the partnership kicked off at Omni Amelia Island Resort in Amelia Island, Florida, these two brands together help the more than 9 million players across the United States easily find places to play, including resorts, hotels and airbnb destinations to book your next getaway. 
With that, we wanted to feature 5 of our Top Pickleball Destinations that we think would make for a perfect spring break vacation for your family and friends: 
TOP 5 DESTINATIONS:
1. Royal Caribbean Cruise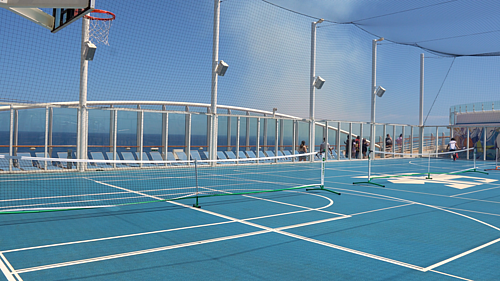 With pickleball soaring in popularity, Royal Caribbean now offers pickleball on 16 of their ships. This is a great way to meet people while on vacation and to get some morning exercise in before indulging in all the incredible food and drinks on board.You can easily pack your Nettie paddles to bring onboard or the ship will provide equipment for guests. 
For those that offer pickleball onboard, guests can find the details in the Royal Caribbean app for when open play is offered. On most of the ships it's offered, it is played from around 8am - 11am on their outdoor sports courts. 
Some of the ships that offer pickleball include: Independence of the Seas , Odyssey of the Seas, and Wonder of the Seas. 
Be sure to use the PicklePlay app to find resorts that offer pickleball as an off-shore excursion while the ship is docked. 
For more information about upcoming cruises, visit RoyalCaribbean.com 
2. JW Marriott Desert Ridge
The JW Marriott Desert Ridge is a pickleball player's dream desert destination! With 17 pickleball courts that offer spectacular views of the gorgeous Arizona Sahara. 
On-site private lessons, daily clinics, group one-on-one instruction and ball machine rentals provide pickleball enthusiasts the opportunity to improve their competitive game, or simply join in on some pick-up games. 
After a full day of pickleball, relax and rejuvenate at the Revive Spa or poolside at the picturesque palm-lined pool. The spa boasts of a variety of spa treatments and the pool offers guests luxurious cabanas with full cocktail service, saunas, steam rooms and bistro. 
3. Omni Amelia Island Resort
The Omni Amelia Island Resort, as featured in the PicklePlay app as a Premier Pickleball in the Sun Destination, is nestled on 1,350 acres at the tip of a barrier island off the Florida coast, offering luxurious oceanfront accommodations with unparalleled views of the Atlantic Ocean, world-class resort pools, championship golf, and a full-service spa. 
After strolling on the beach each morning, or spending the day kayaking, head over to the Cliff Drysdale Tennis Center where they host 7 dedicated pickleball courts surrounded by canopy trees. 
The use of pickleball courts is reserved for registered guests of Omni Amelia Island Resort and club members, offering pickleball lessons with their onsite pro or reserve a court to play with your family and friends. 
Cliff Drysdale also frequently hosts clinics or tournaments, so be sure to visit ExperienceCDT.com to find out about upcoming events. Including a round robin tournament April 15-16 where you can join Pickleball in the Sun's founder, Laura Gainor. 
Getting to Amelia Island, choose to either fly into the Jacksonville International airport, only a half hour away from Amelia Island, or to the Orlando International Airport, which is a 3-hour drive. 
 4. La Quinta Resort in Palm Springs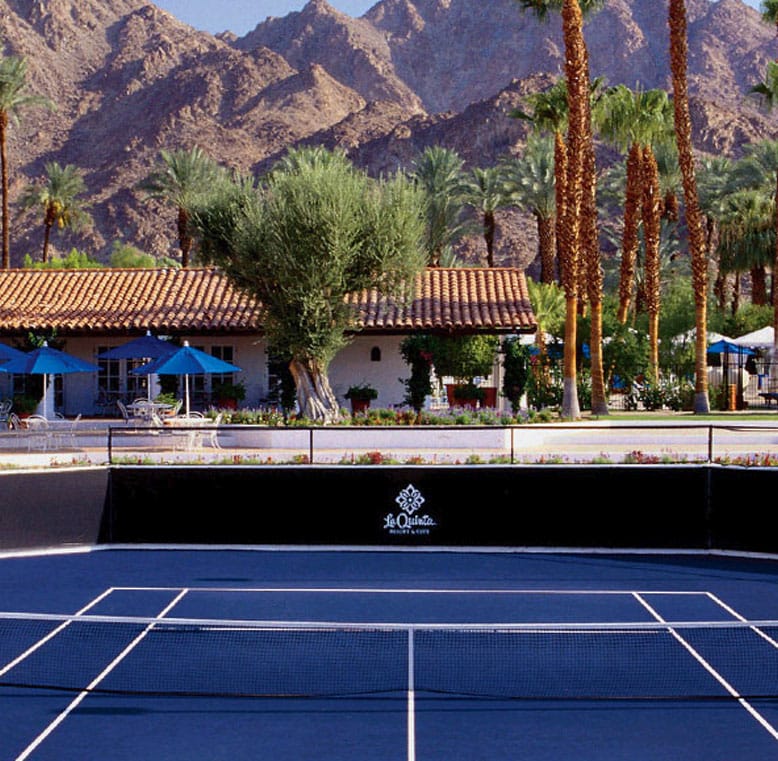 At the forefront of the West Coast pickleball popularity wave is La Quinta Resort & Club, a Curio Collection by Hilton sporting gracious accommodations for guests, 41 climate-controlled pools, 21 tennis courts, 8 pickleball courts, and a spa. 
Being only 30 minutes away from Joshua Tree National Park, La Quinta Resort & Club is quickly becoming one of California's most popular resorts for active and outdoorsy travelers. 
Reservations are required to utilize the courts, lessons, clinics, and open play time is available for $25 per court per hour. 
Premier Pickleball Destination in the March/April issue of Pickleball Magazine – read more here! 
 5. Kiawah Island -  Kiawah Island Clubs
Kiawah Island, which is just a few miles away from historic Charleston, South Carolina is known for its beautiful world-class golf courts. What It's less known for is being a racquet sport destination

 The club houses tennis courts that double as pickleball courts and two dedicated Pickleball only courts

Enjoy a round of golf and a match or two of pickleball all on the same beachside facility, a destination perfect for golf and pickleball lovers alike!
The only other thing you'll need for the perfect pickleball vacation is new paddles that match the vibrant, fun destination you're headed to. We may be biased, but Nettie has what you need, with premium pickleball paddles, which are beautifully designed and made from high-quality carbon fiber. Our sets include everything you need to easily pack up for the pickleball vacation of your dreams.